One of the biggest problems with traders is finding a good setup! What if I can tell you that there is a way to find at least one incredible trading idea every day. Before we move forward, it's crucial to understand what astonishing trade is? A good trade is something you can find without wasting too much time and using a simple approach to trade it, so let's say a textbook setup.
Your goal as a trader is to try finding one trade each day, something that will give you a minimum 1:2 risk-reward and ideally 1: 3. For this kind of tr
Step #1 – Understand How to Select the Right Instrument
Trading random pairs or following one instrument here won't work. Market Volatility won't be the same every day. Since you always want to trade instruments with good volatility, it's necessary to go and do a quick research minimum of once per week or daily, as I recommend.
I have my tools for that, but for this purpose, I'll use free tools that anyone can find by googling "Today's Forex Performance Leaders."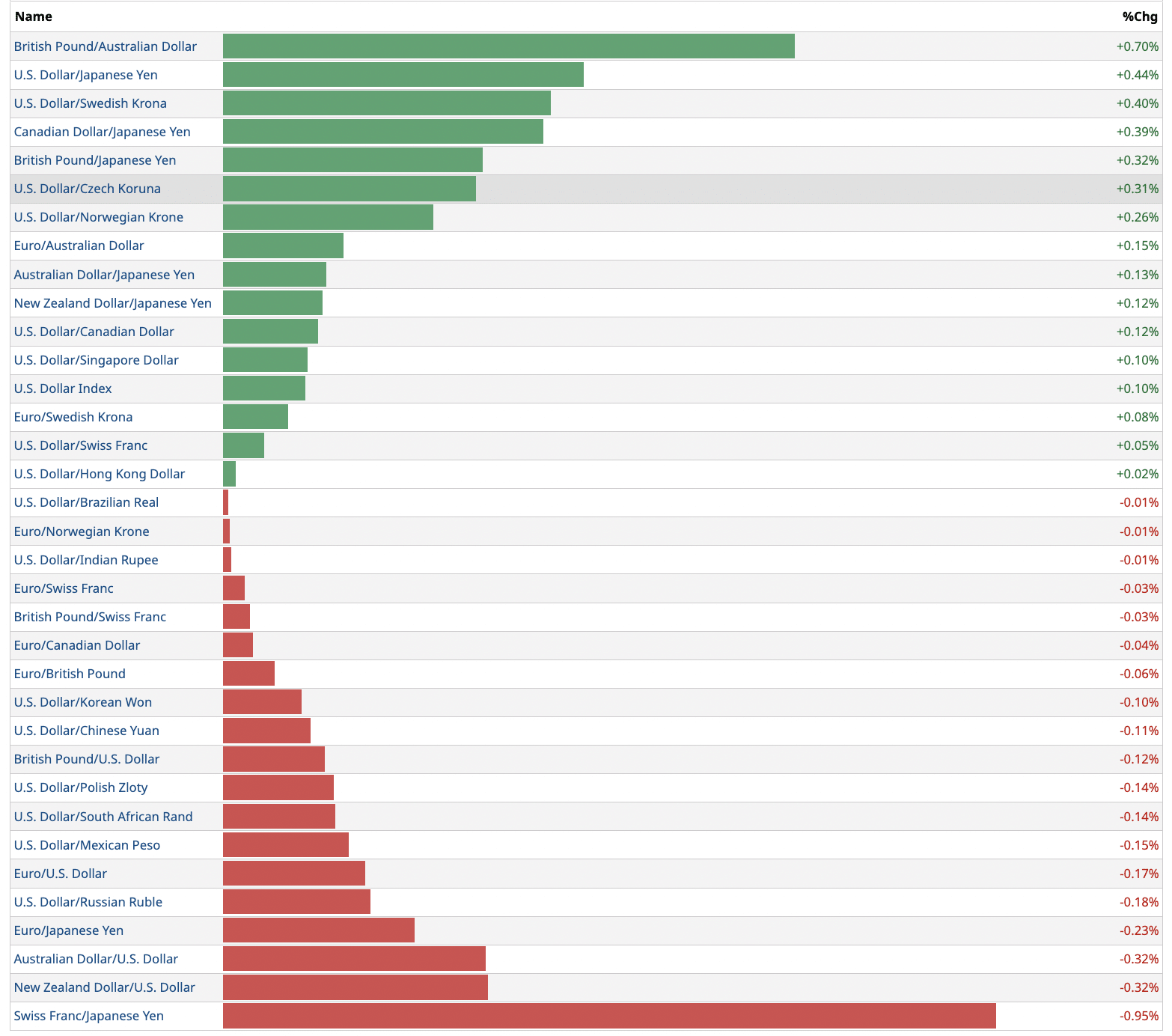 What we can see from the tool I used, the top performance where: GBPAUD +0.70%, USDJPY +0.44%, USDSEK +0.40%, CADJPY +0.39%, GBPJPY +0.32% while worst performance where: CHFJPY –0.95%, NZDUSD –0.32%, AUDUSD –0.32%.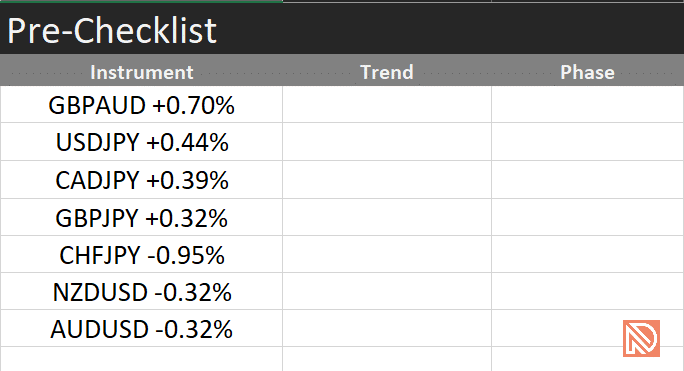 Don't think that FX is slow because you see small numbers in change percentages; everything that has more than 0.25% move in any direction (so it can be 0.25%> or –0.25<) will do the trick. After you find 6-8 instruments write each symbol down in what we call "Pre-Checklist/Watchlist" and move to the next section.
Quick Tip: I would stick with majors, jpy group, and bigger crosses. Exotics, like in this case, USDSEK, would be off my list right away.
Step #2 – Identify the Stage of the Trend
Once you get a list, open a blank chart of all the instruments on the H1 time frame. With this idea, you are constantly checking the market, so an hourly chart will be the best option to hold you for 24 hours.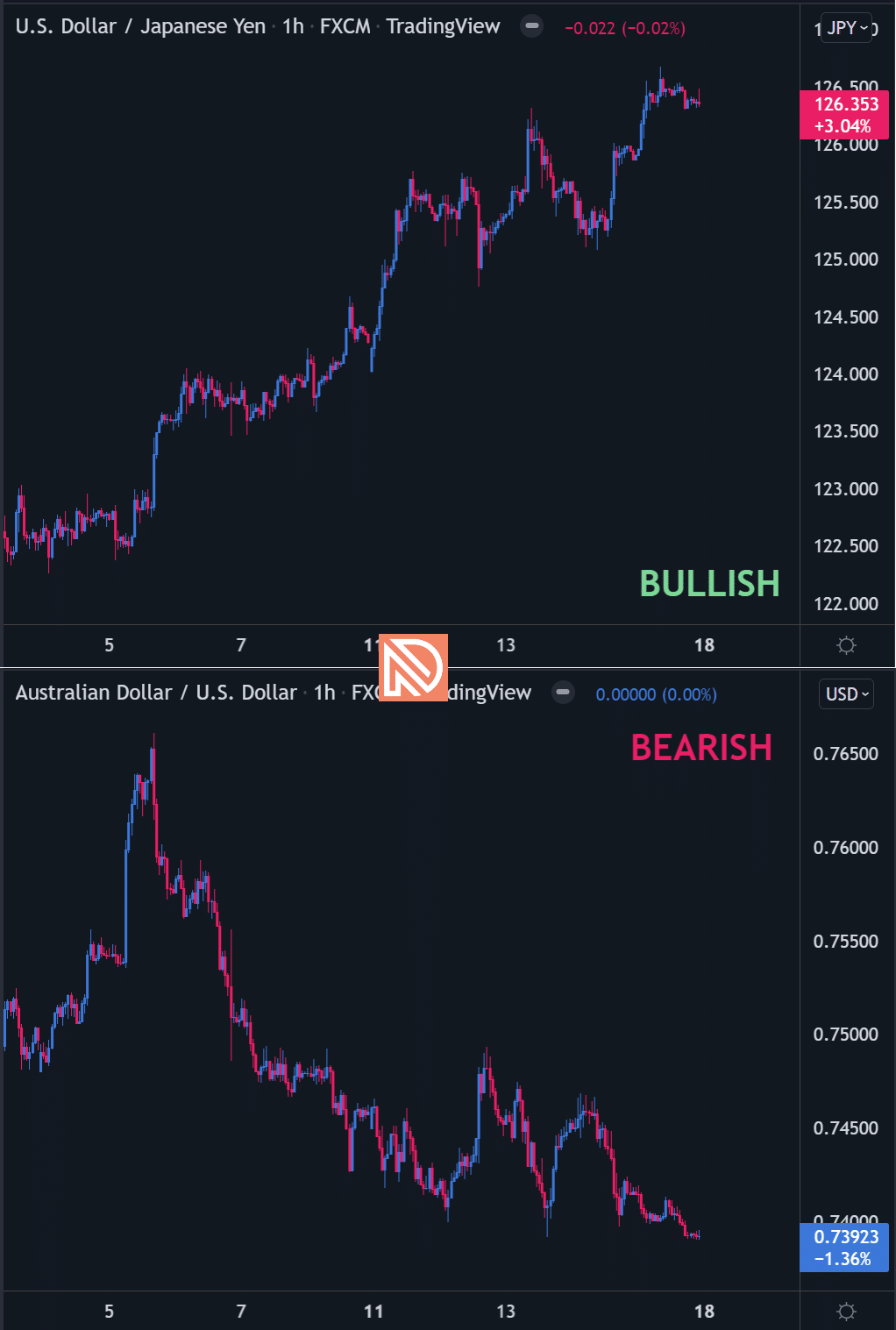 Once the chart is open, look for the trend and write the direction inside the pre-checklist. Keep in mind that most times, if the pair is positive, you will see Bullish, and if the pair shows negative, it will be Bearish, but you need to double-check everything.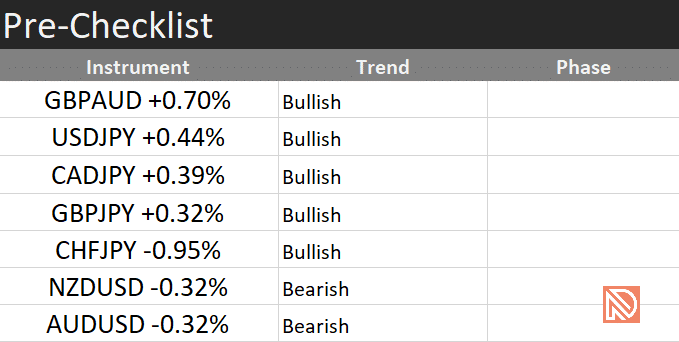 You can see how I am doing this part in the image above.
Keep the instruments where you can see the trend clearly and close all the pairs where price action is choppy and unreadable.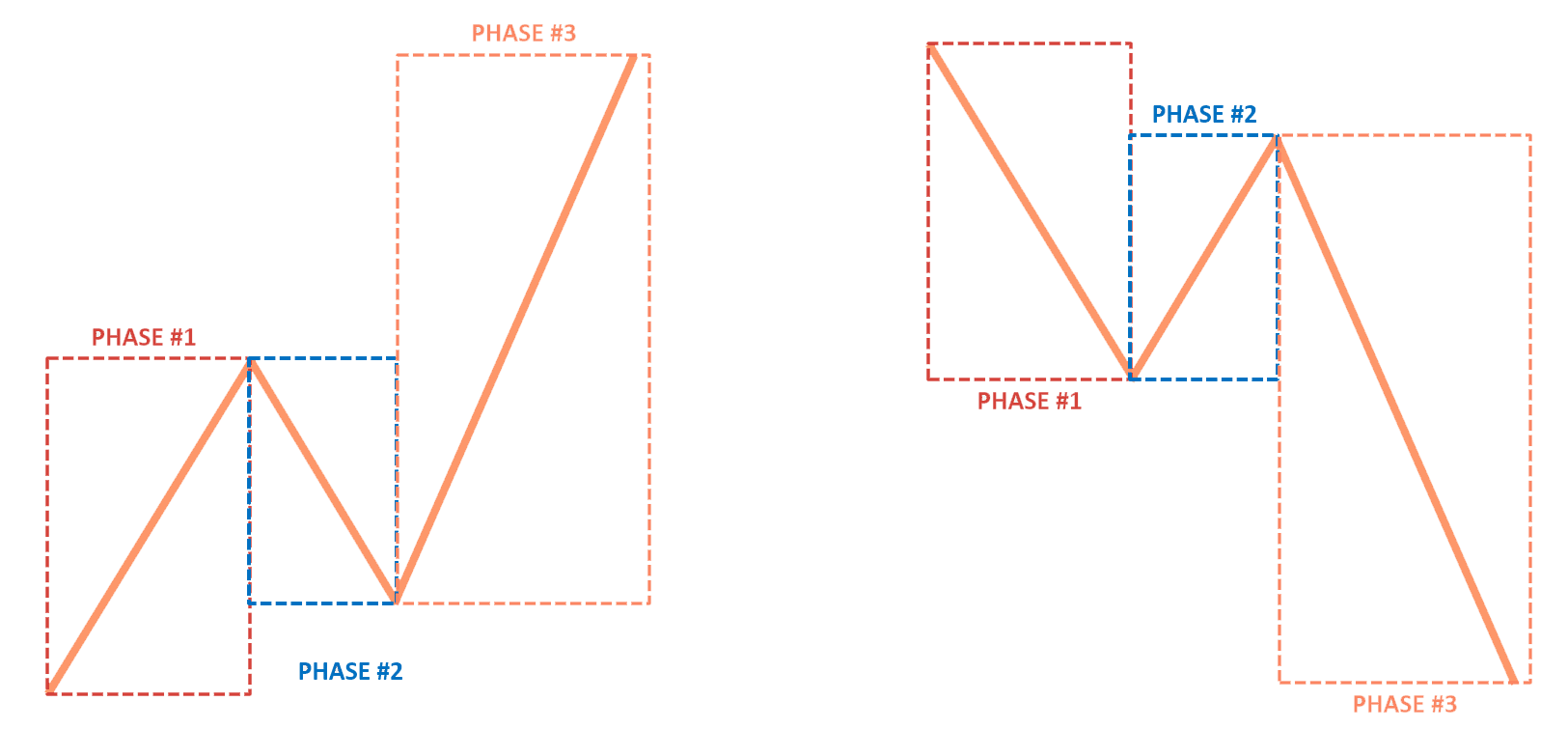 The next part will identify how mature that trend is and identify the current stage. We will go with the idea that each move will have three phases: the starting phase, the consolidation phase, momentum phase, and we will label them with numbers 1,2,3.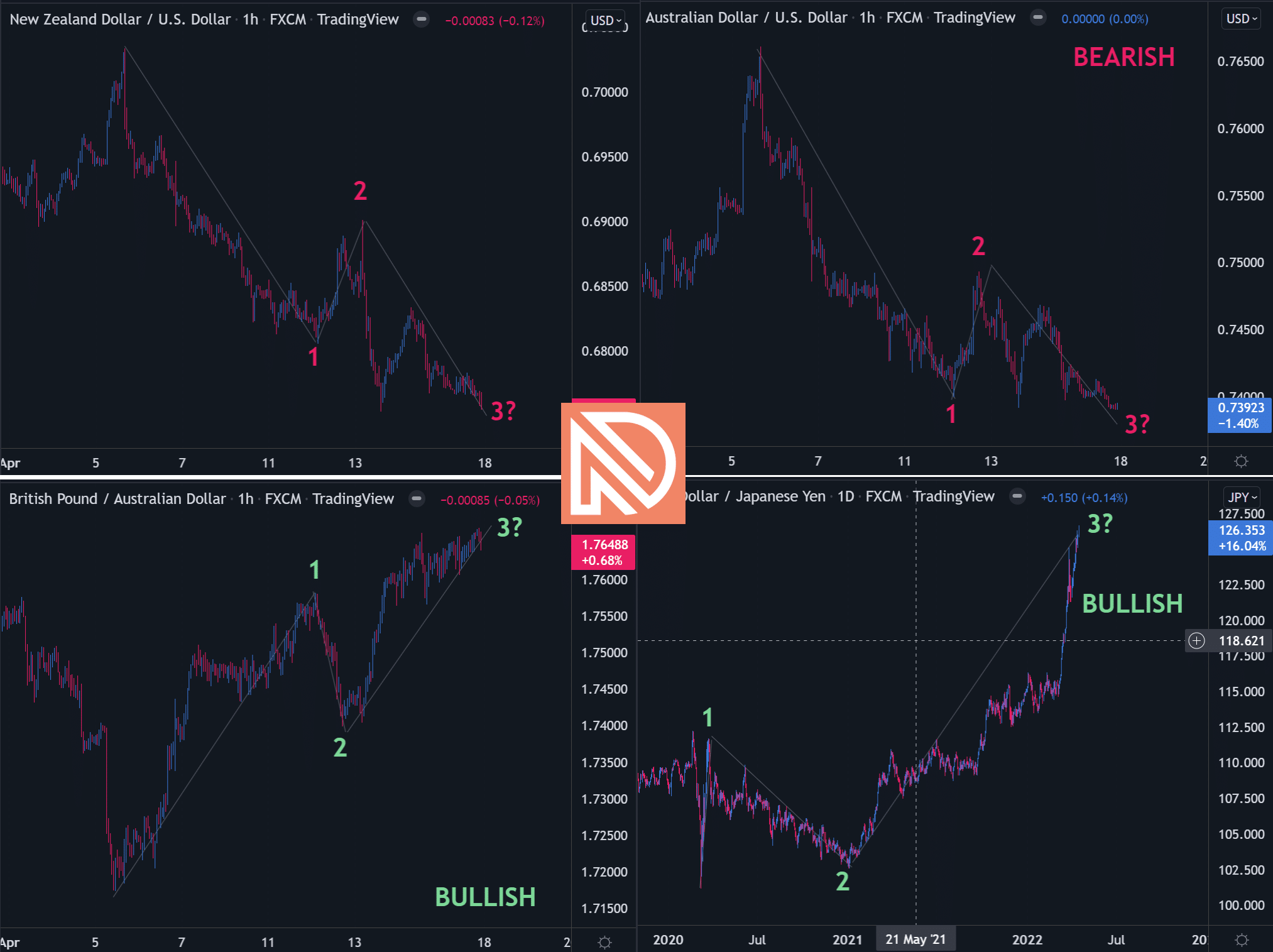 On the image above, we can see how that looks, and your goal is now going to be to try finding something in either phase 2 or the early stage of phase 3. Check all the charts from your pre-watchlist and see what you can spot. Like the example above, we have USDJPY in late phase 3 skip the instrument. From all the pairs from our list, we maybe have potential plays in AUDUSD, NZDUSD, and GBPAUD.

This step is something I love the most, and that's pattern-finding. Your goal is to find a pattern that will help you jump into the trade in the trend direction. We prefer to see two patterns for this kind of trading: Flags & Triangles. Since we already have educational articles for both patterns, I'll link them below, and feel free to watch my educational video on finding formations.
The image below shows that we have spotted a FLAG pattern on the AUDUSD pair, and we can move that pair to the next step.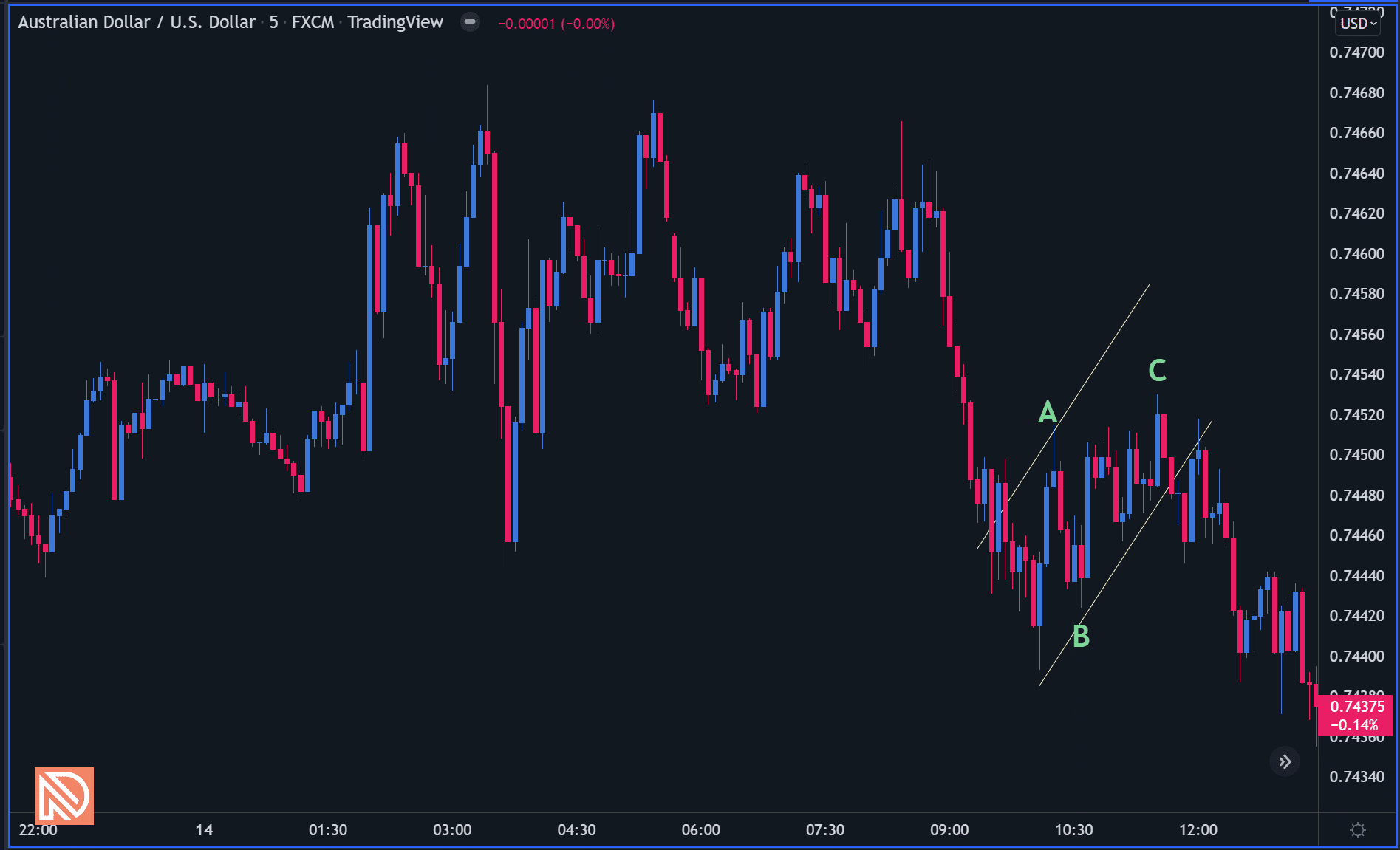 Quick Tip: To make sure you do not miss a pattern feel free to use a combination of M5 and M15, you won't have more than 4-6 charts open, so it will not be an issue.
Step #4 – Get Confirmation
Trading patterns can be great, but to make sure we get the highest probability of pattern, we will use confirmations.
Two types of confirmation:
1. Indicators
2. Fundamental
For Indicators, we will wait for a breakout of RSI as confirmation. We want to see a breakout of RSI in a direction that we want to trade.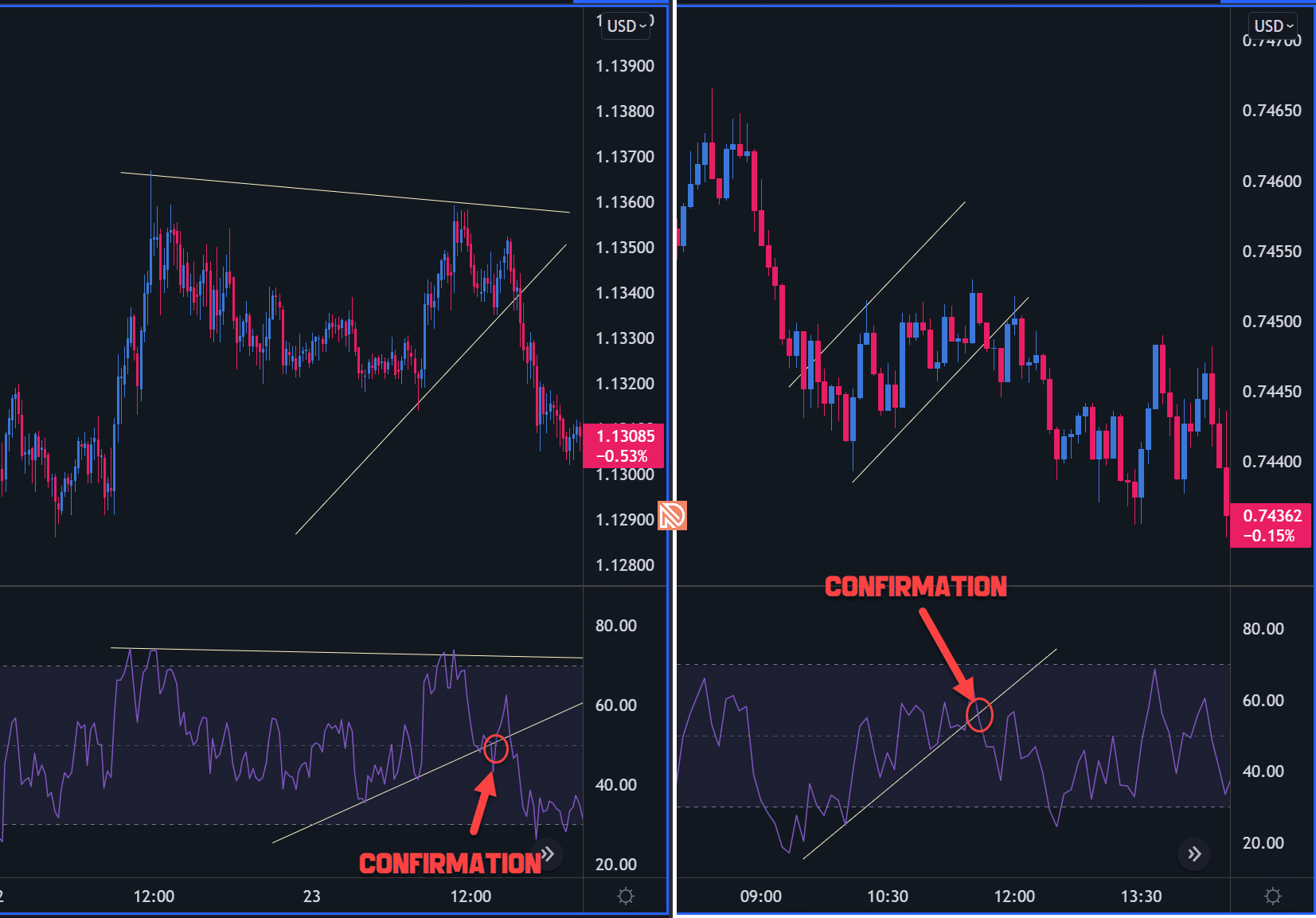 We want to see this in RSI to confirm Triangle and Flag.
For second confirmation, I like to check the fundamental data. Make sure you don't have anything along the way that can stop momentum or change the direction of the current plan. You don't need to worry about all news, just high-impact ones like interest rates, central banks reports, etc.
If your setup has passed all the confirmations, you now have "the one incredible trade" waiting to be executed.
Yes, we are finally at the step you all have been waiting for. Once you have found a setup and confirmed it, it's time to place that pending order on your account. The part where you need to pay attention during this step is RISK! How much some setup passed all confirmations, that doesn't make them instant winner, so try going with 1-2% as risk per trade (RPT). This way, if you are right and your setup has a 1:2 risk-reward, you aim to make 2-4% each day, which is more than enough for everyone.
Quick Tip: Make a small trading journal for this kind of trading, put the entire research inside, and once per month, check it. This way, you can try to learn from each trade you make and become even better with time.
Conclusion About Finding One Incredible Trading idea
Finding a quality trading idea is not hard if you spend a little time on research and preparation. Try this five-step method in your trading for a minimum of 30 days (20 trading days) , and you'll start seeing incredible results.
Yes, most of the things that we follow here can be automated, but try playing around manually before you go with automated solutions. Only after showing yourself that you can be successful with this manually go and play with automation.
Enjoy Your Trading,
Nicola Delic